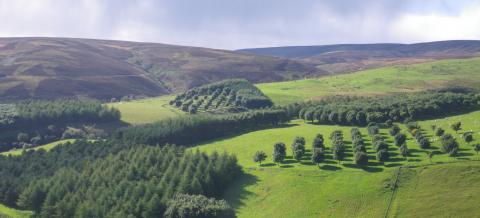 Agroforestry is a land management system which combines livestock grazing and forestry - the experimental system at Glensaugh has been in place since 1988. We are also working jointly with Aberdeen University on a new agroforestry research project, FARM TREE (started September 2022) which is funded by the UKRI Future of UK Treescapes programme. We are exploring new designs for further agroforestry planting at Glensaugh soon.
The UK Committee on Climate Change's report (January 2020) recognised agroforestry as one key action to help deliver the major shift in land use needed to achieve net-zero carbon emissions by 2050. It can contribute directly to the first two policy objectives outlined by the report – to increase tree planting and encourage low-carbon farming practices - as well as having animal welfare and biodiversity benefits. It also helps to diversify farm income, leading to increased social, economic and environmental benefits for land managers and users at all levels. 
"Agroforestry in Scotland - potential benefits in a changing climate". This report published in 2018 assesses the wide range of potential benefits of increasing the use of agroforestry practice in Scotland - it can be downloaded here.
Agroforestry research plots were planted at Glensaugh in 1988 as part of the UK Agroforestry Forum (now called Farm Woodland Forum).  Information about the early findings from this experiment can be found here. These experimental plots have given us a unique long-term resource for assessing the wider environmental as well as economic impacts associated with this type of land management. 
Agroforestry Virtual Tour. A virtual Tour of the Glensaugh agroforestry trial plots was developed in autumn 2019, with funding assistance from the Macaulay Development Trust - please visit our 'Virtual Farm' page on this website for further details, and a link to the Virtual Tour web pages is here.