Virtual Farm Tours
Virtual environments, augmented reality and 360-degree video technology are powerful new tools in research, knowledge exchange and public experience of the Institute's assets and activities. Our Agroforestry Virtual Farm Tour showcases agroforestry in our Glensaugh hill farm setting.
The Agroforestry Virtual Farm Tour was developed in 2019 with funding assistance from the Macaulay Development Trust, and is being further developed, with other exciting applications in the pipeline - keep an eye on this page for updates and information about our new Virtual Tools as they are released for viewing.
The Tour can be viewed on a laptop/tablet/desktop, and also on an android phone and headset as an immersive experience. It is accessed via the initial information page, which also allows access to further resources such as drone footage of the site and information on the original agroforestry research project. More information on the agroforestry research project can also be found here.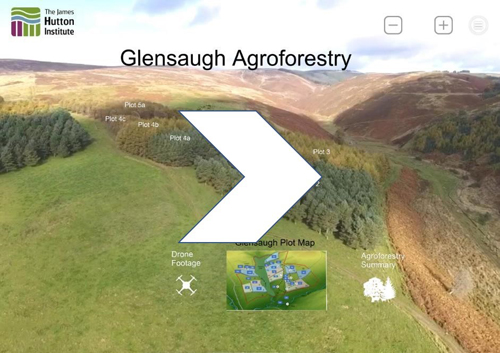 The 360-degree videos give the opportunity to view the agroforestry plots and move around either using the mouse or tilting your head (if using a headset). The site is fully interactive and allows you to take the tour of your choosing.
By clicking on the individual plots you can enter each of the sites and experience the reality of being in the woodland environment.
The visual records embedded in the Tour give additional information, for example allowing the different ground cover to be explored and compared to the canopy cover and light levels under the different treatment plots. Further information about the plots can also be accessed via embedded hotspots.
The drone footage also gives an aerial oversight of the agroforestry plots and surrounding landscape in the area.
We would welcome any feedback, including additional information you would like access to or additional functionality you think the Tour would benefit from.
For more information or to give feedback on the Agroforestry Virtual Farm Tour, please contact Claire Hardy or Malcolm Collie.